︎︎︎ Back
---
From June 2 to 11, 2023
All building.
DAWA Exhibition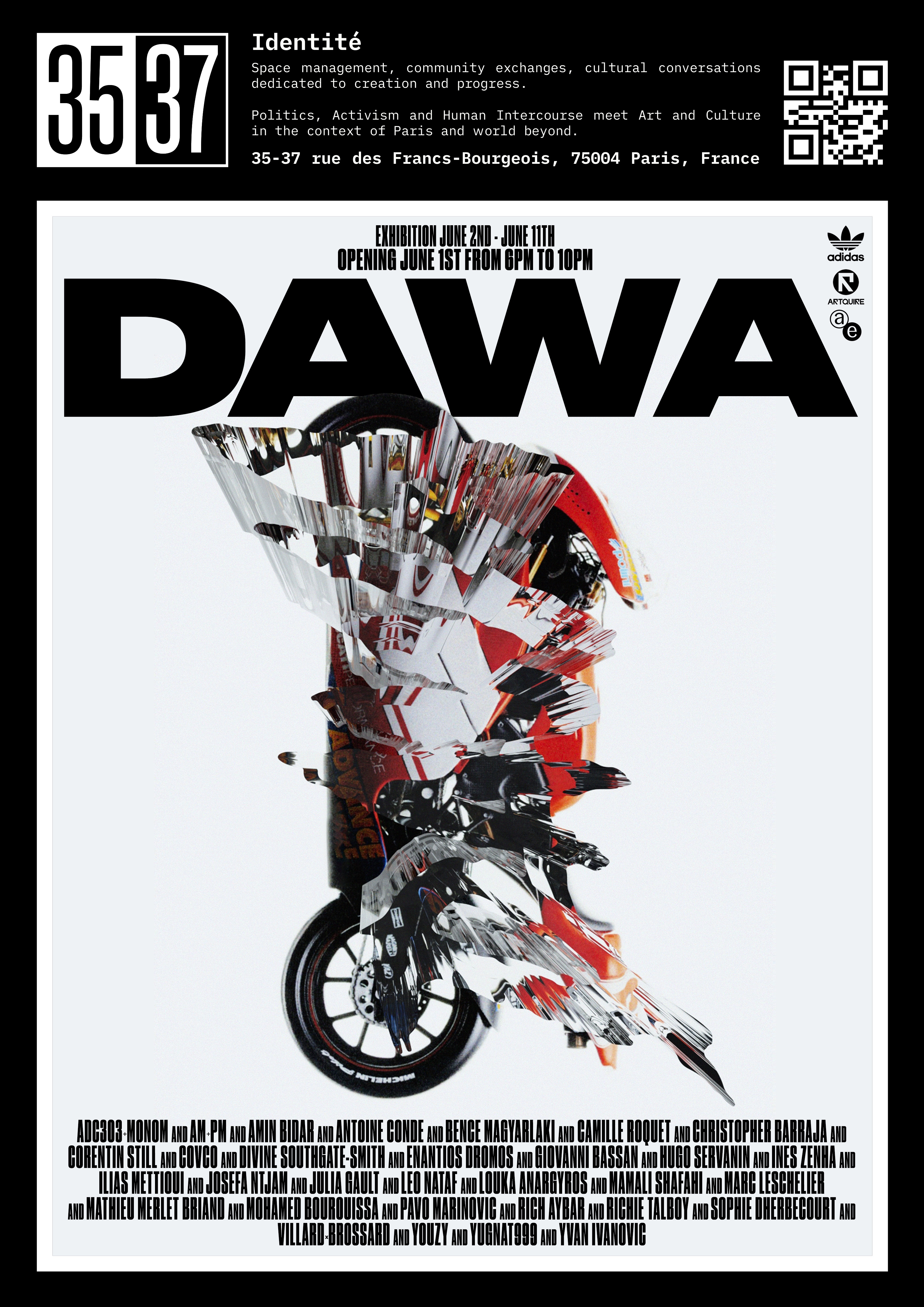 DAWA by LATIF AND FRIENDS
"Dawa" in Arabic can either mean "disorder" or "bazaar". This word and the cessation of
3537
,
are the inspirations for the group exhibition that will be held at the Hotel Particulier. This exhibition presents a group of artists whose mediums range from sculpture to sonic installations and even memes. This exhibition is curated by Latif Samassi, a member of
3537
.
«
With this presentation, I wanted to focus on the aesthetic experience, rather than the excessive conceptualization that often comes with curating an exhibition of this magnitude. This 10-day exhibition will showcase works by more than 30 international dynamic artists, who range from emerging to established. This visually staggering showcase of art is significant, as it is a heterogeneity of voices within contemporary art.
» Curator, Latif Samassi
Despite the apparent chaos suggested by the term "Dawa", the exhibition features careful organization and attention to detail. This exhibition is a celebration of beauty and pleasure, as a way of bidding farewell to
3537
.
Dawa
opens on the first day of June and should not be missed.
Opening night (public):
1st June 2023 (Thursday)
6pm – 10pm
Exhibition open to the public:
2nd – 11th June 2023
Monday to Sunday,
11am - 7pm
Entrance :
Free
Curator:
@latif.eu
With the support of:
@adidasParis @doverstreetmarketparis @3537org @Artquire
Set design:
@Djeasonvalerio
Artists:
ADC303+MONOM - AM+PM - AMIN BIDAR - ANTOINE CONDE - BENCE MAGYARLAKI - CAMILLE ROQUET - CHRISTOPHER BARRAJA - CORENTIN STILL - COVCO - DIVINE SOUTHGATE-SMITH - ENANTIOS DROMOS - GIOELE AMARO - GIOVANNI BASSAN - HUGO SERVANIN - ILIAS METTIOUI - INÊS ZENHA - JOSÈFA NTJAM - JULIA GAULT - LEO NATAF - LOUKA ANARGYROS - MAMALI SHAFAHI - MARC LESCHELIER - MATHIEU MERLET BRIAND - MOHAMED BOUROUISSA - PAVO MARINOVIC - RICH AYBAR - RICHIE TALBOY - SOPHIE DHERBECOURT - VILLARD x BROSSARD - YOUZY - YUGNAT999 - YVAN IVANOVIC
@adc303 @aminbidar @am_________pm @ed.nock @bencemagyarlaki @camilleroquet_ @reveparty @corentin_still @_covco @divinesouthgate_smith @limtrf @gioeleamaro @giovannileonardobassan @hugo.servanin @iliasmettioui @ines.zenha @josefantjam @gaultjulia @LEONATAF @louka_anargyros @mamali_shafahi @marcleschelier @mathieumerletbriand @mohamedbourouissa @pavomar @richaybar @okrichie @sophiedherbecourt @villardxbrossard @youzy @yugnat999 @vinci_vanavoy
DAWA visual 1 credit:
Visual by ILIAS METTIOUI
@iliasmettioui
With the photography « MOTO GP » by ANGÈLE MORAIZ AND PAUL MOUGEOT
(AM+PM)
@am_________pm
Transparent drawing on top by ANTOINE CONDE
@ed.nock
Logo Adidas Trefoil
Logo Artquire
Logo L'Antipode
DAWA visual 2 credits:
Visual by ILIAS METTIOUI
@iliasmettioui
With the artwork « SISSY BOY » by LOUKA ANARGYROS
@louka_anargyros
Transparent drawing on top by ANTOINE CONDE
@ed.nock
Logo Adidas Trefoil
Logo Artquire
Logo L'Antipode
Specials thanks:
@Adrianjoffe
@david_giroire
@Charlottemonge
@manongrby
@magaliclochette
@l_a_l_a_n_d_e
@septiemegallery
@lantipode
@hugogiaco
@pictofr
@nicoletticontemporary
@galeriemennour
@artlistparisnewyork
@fisheye_gallery
@go__see
@galerie_mitterrand
@anelisamangcu
@Casperkofi
@ambre.chambon
@djeasonvalerio
@lucienheritier___
@alminerech
@ndecherisey
@julieberton1
@nobregallan
@jonathan.massiala
@hadriensotto
@blk_cobain
@antnlm
@nathanael.sanna
@tendaysinparis
@victormalecot
-
Opening: June 1, 6pm - 10pm
Exhibition: June 2-11, 11am - 7pm
All building - free entry
---